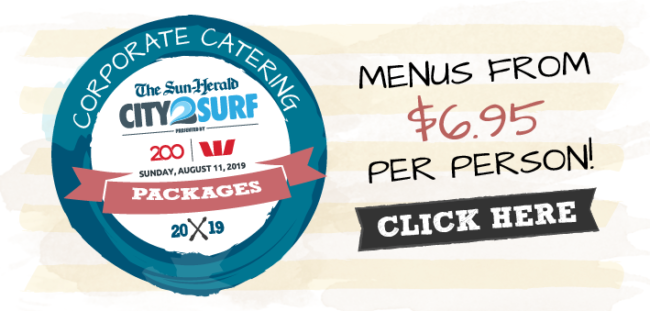 If you are one of the lucky people tasked with organising your company's Corporate Marquee City 2 Surf Catering, then we are here for YOU! And best of all, when the event is a success… You get all the credit from your managers and co-workers.
Flavours Catering + Events has many years experience with City 2 Surf Catering. This year we have been selected to be on the panel of approved suppliers of City 2 Surf Catering to the corporate marquee holders.
Organising your City 2 Surf Catering can be an overwhelming task, however we are here to help you. Why not use our City 2 Surf Catering experience to ensure you have a successful event?
The benefits of using Flavours Catering + Events for your City 2 Surf Event doesn't end at our experience. You have peace of mind knowing that you are dealing direct with your catering company. All of the instructions you give your event manager leading up to the event will be executed by your event manager on the day. Why would you trust your important City 2 Surf Event with someone who will not be onsite to execute your event in the way that you have planned it?
We can provide you with all of your City 2 Surf Catering requirements:
Food
Beverages
Equipment hire
Staff hire
All you need to do is turn up!
You can view our city 2 surf catering menu here. Alternatively contact Kirsten, our resident City 2 Surf catering expert for a customised quotation based on your specific requirements – 1300 368 605.
Your event will be taken care of by Flavours Catering + Events from before sunrise on the day (when our bump in team arrives), until the last piece of equipment is loaded into the van at the end of the day.
Our menus are suitable for competitors and spectators alike, including lean protein to aid muscle repair, with the option of fresh juices, designed around aiding recovery.
Below are some comments from recent years City 2 Surf Catering success stories:
Allens-
"Just a short note to pass on my gratitude to Dee and Renee for their amazing efforts on Sunday – they're both superstars!!"
Jones Lang LaSalle-
"I just wanted to thank you for your continued assistance and effort in organising the very successful event. We received a fantastic response from all attendees on the absolute professionalism, friendly manner and tasty catering provided on the day."
Mirvac-
"Please thank the team as I had nothing but great feedback from all my people – loved the 'build a burger' format which provided lots of flexibility to keep everyone happy."
O2 Networks-
"Good value for money and friendly service"