Fifi and Jules from 2Day FM love the grub from Flavours Catering + Events
Born naturals, the team at Flavours Catering + Events tried their hand at radio not too long ago. Not really, but the cast and crew of the 2Day FM show Fifi and Jules loved the quail-ter-bacon-duck-en that the incredible head chef, Blaire created for them.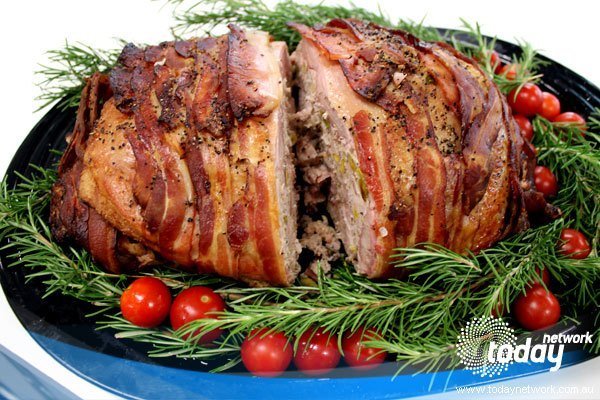 On Thursday 10th March, Jules Lund decided to surprise his on-air pal Fifi Box with a spectacular poultry feast during their drive time show on 104.1 2Day FM – and called on the chefs at Flavours Catering + Events for their help. A twist on the traditional 'turducken' (chicken stuffed into duck stuffed into turkey) favoured in the UK, Europe and US, 2Day FM asked us to prepare a quail-duck-chicken extravaganza wrapped in bacon, in honour of National Bacon Week. This has got to be, without doubt, the yummiest prank that Jules has pulled on Fifi in the history of the Fifi and Jules show on 2Day FM!
They had a Masterchef-style taste test where a blind-folded Fifi was asked to guess the ingredients of the carnivorous creation. As usual, Jules and Fifi were making much mischief during the radio segment. Have a look at these photos! Looks delicious, doesn't it?!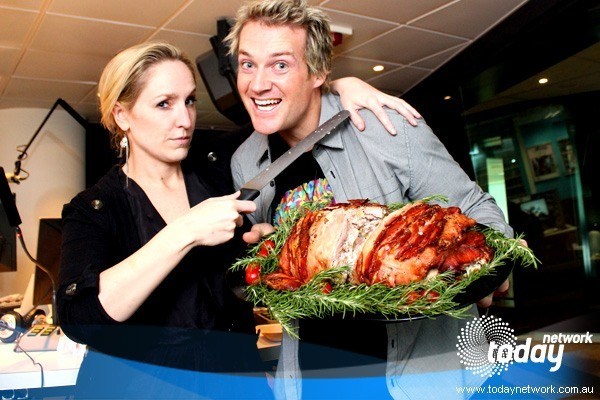 I wonder what's next on the cards for the team here at Flavours catering + events. Television perhaps…?
---