Drop off / delivered catering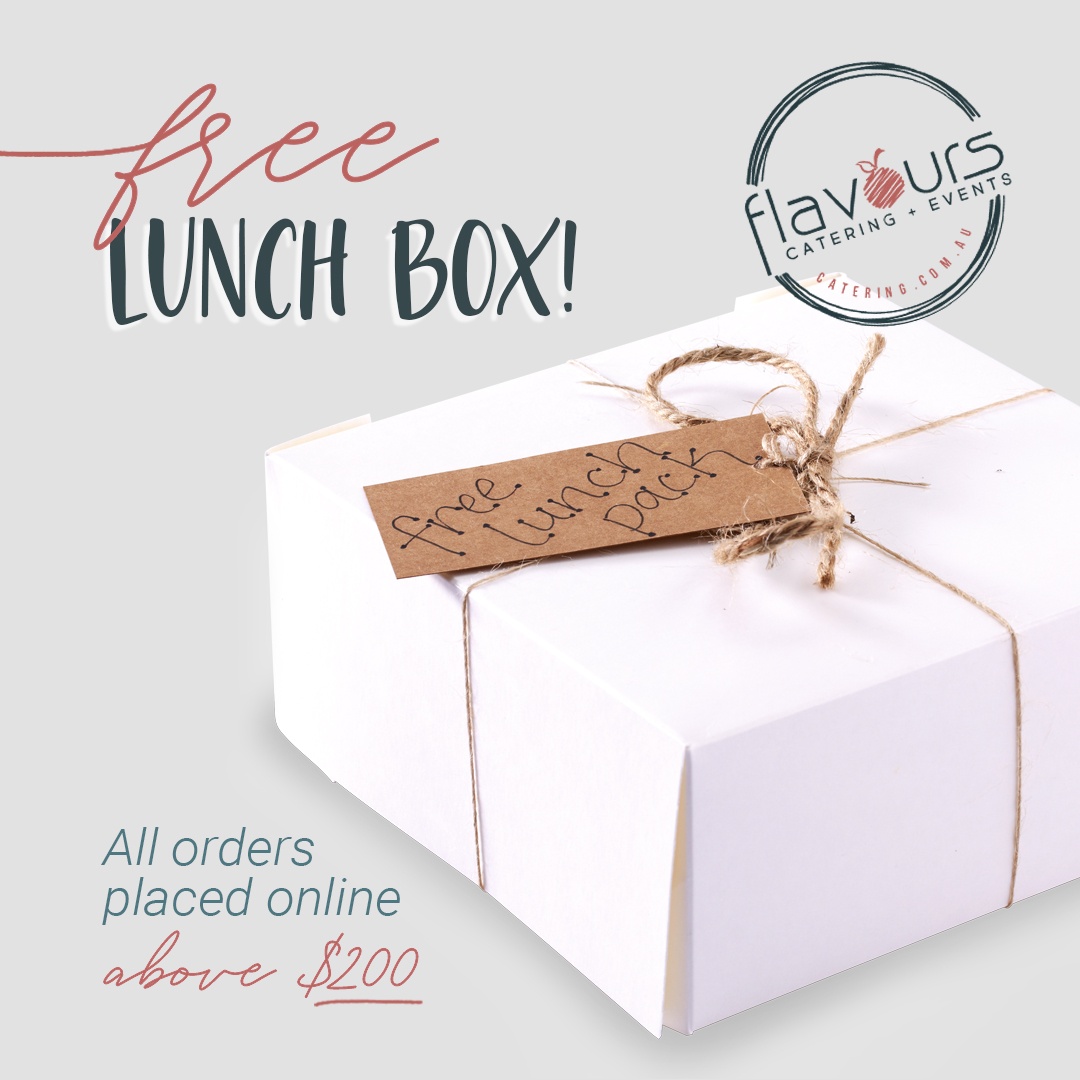 Lift the Lid and Enjoy!
Drop off catering Menu
Whether you are planning an early morning breakfast meeting or a corporate lunch for your senior executives, Flavours Catering + Events will ensure that we deliver corporate catering that meets your expectations, every time.
View our drop off catering menu
Flavours Catering + Events is your one stop catering destination when you need to plan your next catered event. Flavours Catering can provide a corporate catering solution for that last minute catering requirement, that makes the process as easy as can be.
Flavours Catering can guide you to the perfect catering to compliment your event, impress your boss and satisfy your guests.
Have a working lunch coming up but don't want boring sandwiches?
At Flavours Catering we do lunch with a difference.
Flavours Catering can provide hot or cold buffet style lunches or plattered lunch catering as well as individually packaged and portioned meal options.
Our lunch boxes, individual meals and salad bowls are perfect for when you are eating on the move, needing to comply with covid restrictions, having a picnic in the park or any time per person catering is required.
Our delicious and nutritious lunch boxes offer a wide range of inclusions and cater to many common dietary requirements, we can accommodate even the most discerning guests.
You can be confident that your corporate lunch catering will be delivered on time and delicious every time.
Our drop off catering delivered fresh to your door ,offers a wide range of menu selections that can be served in a variety of ways for whatever your needs
Our drop off catering delivered fresh to your door, offers a wide range of menu options, served in a variety of ways to suit your needs.
Drop off catering includes breakfast catering, morning and afternoon tea, lunch catering, cocktail parties, buffets, bbqs and more. Our abundant and varied drop off platters are beautifully presented and ready to serve.
As a fully licensed caterer, Flavours Catering can deliver a range of beverages including chilled wines, beers, cider, soft drinks, juices and waters.
We can also provide disposable drinkware or if preferred, glassware is available to hire.
Whether you are entertaining clients in your office, at unique outdoor space or at a private home, our catering services can make your event truly special
Delivered Catering
Lift the Lid & Serve
As well as our extensive range of food and beverage choices, Flavours Catering offers staffing and equipment hire, theming and entertainment and we can also help with location suggestions from one of our preferred venues. If you need to hire it, Flavours Catering will source it for you.
View our Menu
Be quick
We book up in advance!
For a guaranteed 5-Star Catering Experience
Quick Contact
Request a custom quote