Flavours catering and Events are always ready with specialised menus to start the party for the race that stops a nation. If you are already familiar with our corporate and events menus that are available online, then you will know that there is certainly no shortage of options when it comes to our Sydney catering. Being the sophisticated city that we are, here in Sydney, we all know how to eat, drink and be merry, and look for any excuse to do so. Melbourne Cup is not only an excuse; it is a nationwide celebration that brings the people of Sydney and Australia together.
Thinking about which Sydney catering company to order with for Melbourne cup is, without doubt, a very big decision. Below are some of our exclusive Melbourne Cup menus that will definitely let your taste buds do the talking for you! If there is anyone attending your event on Melbourne Cup day that has any dietary requirements, Flavours catering and Events will not allow for this to put a damper on the Melbourne Cup day itself, have a look at our special menu here and you will be sure to find something for any dietary requirement.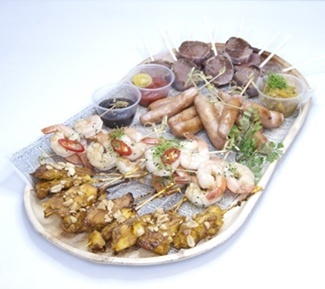 Here are some feasting platters that will make your taste buds start screaming now, and make you with that Melbourne cup was TODAY!  These feasting platters by Flavours Catering + Events are a delicious and easy way to provide the event, whether it is at work or at home, with a little extra WOW factor.
Flemington's Feasting Platters – Celebrate Melbourne Cup Day in Style
Signature Cheese Board
Assortment of four local and imported cheeses served with grapes, muscatels, quince paste, lavosh and water crackers
Gourmet Cheese, Fruit and Crackers
A selection of fine cheese, sliced seasonal Fruit, as assortment of crackers, accompanied by dried fruit and nuts
Gourmet Cheese, Crackers and Dips
A selection of fine cheese and gourmet dips, accompanied by an assortment of crackers, dried fruit and nuts
Tasty Tapas
A Mediterranean-inspired feast with an abundance of gourmet goodies including marinated feta, chargrilled capsicum, sliced salami, falafel, stuffed olives, spicy chorizo sausage, semi-dried tomatoes, breads, crackers and dips
Turkish Bread and Gourmet Dips
Wedges of freshly baked Turkish bread accompanied by gourmet dips
Salsas, Dips and Dippers
Vegetable crudités, crispbread and crackers accompanied by chunky salsa and gourmet dips
Cold Meats with Breads and Dips
A seasonal smorgasbord of premium meats including a whole boned season roast chicken, pastrami, Hungarian Salami, and shaved leg ham. Accompanied by marinated cherry tomatoes, fresh basil leaves, mixed greens, gourmet breads and spicy tomato salsa.
Sushi Platter
Our petite nori hand rolls are prepared fresh daily using only the finest ingredients. Assortment includes vegetarian, chicken and seafood varieties
Mixed Bakery Rolls and Breads
Assortment includes baby buns and baguettes, Paninis, wraps, Turkish pides and triangle points with gourmet fillings.
Salad Boats + Boxes Platter
Bamboo Boats + Salad boxes, filled with our Chef's assortment
Hot Finger Food Platter
–          Malaysian Satay Skewer with peanut Sauce
–          Vegetarian Spring rolls with an Asian dipper sauce
–          Italian meatballs glazed with sweet chilli
–          Prawn cutlets with basil aioli
–          Lamb Kofta Sticks with minted yoghurt
Cold Finger Food Platter
–          Smoked chicken and watercress baby roll
–          Tartlet of beetroot marmalade, goats cheese and leek
–          Vitello Tonato – Rare roast veal, tuna mayonnaise, baby capers, sourdough croute
–          Ma Hor – Spiced Duck + Peanut, scallop * pineapple salsa, micro herb in a wonton cup
–          Tomato, basil & Parmesan Frittata
Chicken Pickin'
–          Tandoori Chicken Skewer with lemon-minted yoghurt
–          Lemongrass Chicken Strip with sweet chilli
–          Sesame-crusted Chicken Strip with basil aioli
–          Marinated Chicken Drumettes
Fresh Fruit Skewers
Chunks of seasonal fruit pieces – skewered – lightly drizzled with chocolate and served with a fruit yoghurt dip
Fresh Fruit Platter
A stunning selection of seasonal fruit brought together to inspire healthy eating. Served with a fruit yoghurt dip
Sweet Treats Platter
A selection of petite treats to share; This Melbourne Cup catering special may include chocolate brownie bites, Anzac muesli bites, strawberry and Vanilla Friands, House made Marshmallows, Honey and Almond Nougat.
Chocolate Dipped Strawberries
Dipped in fine couverture milk + White chocolate
If there is any day for the city of Sydney to enjoy a good hearty buffet, it has got to be Melbourne Cup day!  Flavours catering + Events have put together a special menu for the racing day, including some delicious buffet menus for you to choose from.
Bookies Buffets – Especially designed to celebrate Melbourne Cup with great food
–          Honey and orange glazed double smoked leg ham with mustard and pickles
–          Rolled roast baby chicken with spinach and ricotta stuffing served with pesto mayonnaise
–          Garden Salad with mesculin, tomato, cucumber, Spanish onion, capsicum and herb vinaigrette
–          European Style potato salad with capers, egg, dill, seeded mustard and sour cream dressing
–          Gourmet bread rolls with individual butter portions
There are plenty more where these came from, all you have to do is jump onto the Flavours Catering and Events website, and check out our Melbourne Cup Menu.
What more could anyone ask for when celebrating in the spirit of Melbourne Cup day than beautiful catering to celebrate their big wins!? No matter what your plans are for the big race, we've got menus to start the party for the race that stops a nation. Book in advance to avoid disappointment – giddy up!