Flavours Catering + Events Unique Selling Point
As with many industries, catering is an extremely competitive market in Sydney and there are a multitude of service providers all competing for the same dollar. In order to break through the proverbial white noise and stand out from our competition, we developed a USP last year that would guarantee our continued growth and success.
Late last year, we developed and trialled a '5 Star Guarantee' (see attached marketing material). This pledge is a five point money-back guarantee whereby we promise that clients will be completely satisfied with all levels of services and products provided by Flavours or their order is completely free. This guarantee was developed based on elements that clients had identified as being key indicators of a quality service provider which hold paramount value in terms of what makes their task of ordering catering easier and stress-free.
Overview of '5 Star Guarantee':
Delivery guarantee: Orders will never be delivered late or they're free
Quality guarantee: Guests will be dazzled with fabulous food
Service guarantee: Guests will experience service that sparkles or get their money back
Quantity guarantee: Clients can rest assured that they don't run the risk of guests going hungry
Quick quotes guarantee: Enquiries and RFQs will be responded to quickly unlike other service providers where it can take numerous days
This is a USP that is entirely unique to the Australian catering market, which as far as we know, has never been offered on such a large scale. We have on occasion encountered some competitors who have offered a soft guarantee (e.g., "100% satisfaction guaranteed" cited but little else said) but these claims appear weak and would offer the client little solace. This guarantee as our USP is our ultimate commitment to client satisfaction and will certainly lower clients' perceived risk prior to purchase.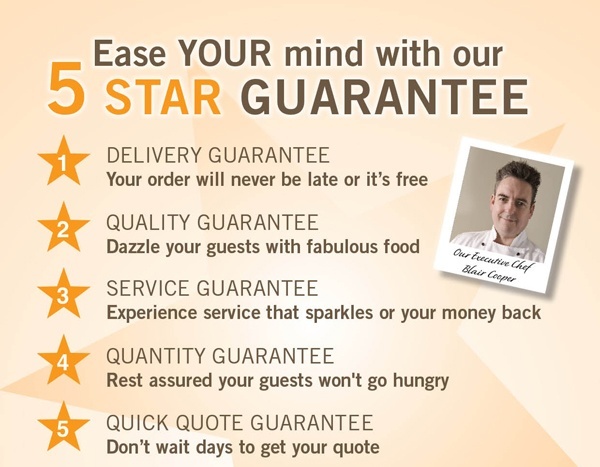 We acknowledge that there is a risk involved in offering an unconditional guarantee, however research corroborates that the success of such a strong USP will far outweigh any disadvantages presented.
We plan to continue running this guarantee by offering it to our entire client base as well as to new prospective clients via fully integrated marketing campaigns including: e-newsletters, flyers, web pages, home page banners, Google AdWords, Yellow Pages, targeted industry advertorials and various social media platforms. We believe that this USP will be a very strong selling tool and will serve as a compelling reason for clients to choose Flavours over one of our competitors, thus increasing conversions and overall turnover.
In addition to our '5 Star Guarantee', we have a number of other competitive advantages that will supplement our USP.
Free Sampler
We invite prospective clients to sample our menu prior to committing to an order. This provides them with the opportunity to review all aspects of our service without cost or obligation. Prospective clients request their sampler via an online form on our website and are then contacted by our customer service team to confirm a suitable date. Few caterers in Sydney offer this as part of their standard service and we continue to enjoy the high-conversion rate that it generates.
Online imagery
We have an in-house photographer who has taken photos of our entire 2010/2011 menu collection. This entailed shooting hundreds of photos, resizing and uploading them onto our online ordering platform where each photo appears next to the relevant order item. This comprehensive imagery will help our clients make more informed choices, more easily; it will also allow them to have a completely transparent ordering experience as in "what you see is what you get". This will be an additional USP that is not shared with any other caterer in Sydney.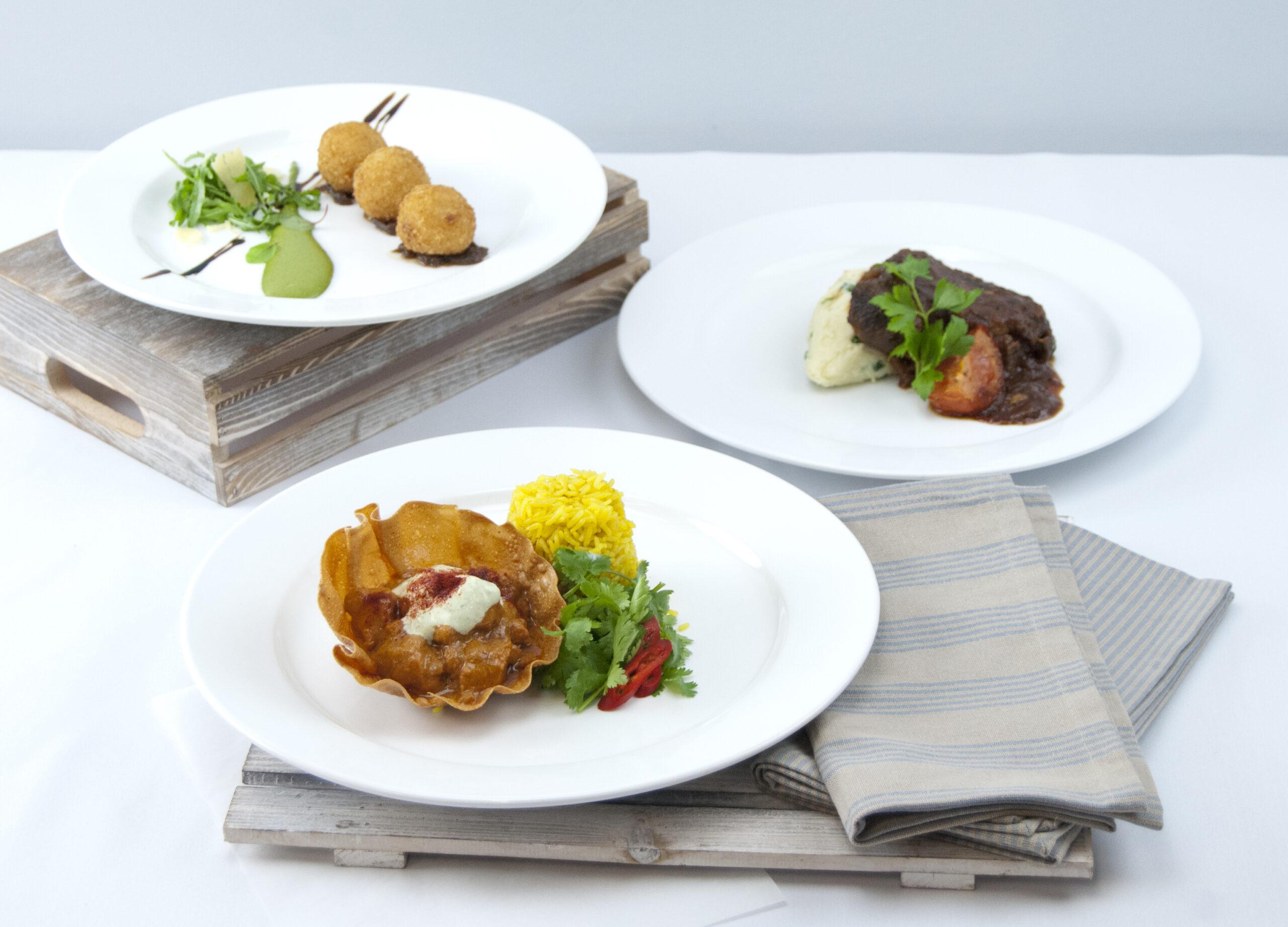 Menu catalogue
Through ongoing research, we have identified that the single most common reason for clients to change service providers is owing to boredom. Corporate clients who order frequently soon tire of a caterers' menu range – day in, day out, they would receive the same sandwiches, the same cakes, the same salads and so on. We identified this as a major concern and sought to combat it by having the largest menu in Sydney. Our last year's 2009/2010 menu catalogue was only 24 pages long, with our current 2010/2011 catalogue standing at 32 pages long, both menu collections include catering solutions for all occasions imaginable.
Furthermore, we wanted to boast menus that are best-in-class in Sydney and as a result have heavily invested much time and money into creating menu catalogues that serve as exceptional selling tools. We have workshopped these menus to have excellent aesthetics, streamlined design and informative content. We have also created quirky combos names to provide us with an additional point of difference, as well as unique menu structures (refer to Lavish Luncheon in 2010/2011 corporate menu collection).
Nourish
We have also developed a menu range called 'Nourish' which was launched in our 2010/2011 menu catalogue in September. Nourish promotes wellness by offering nutritious, well-rounded snacks and meals as part of our menu collection, easily identified by a menu key. The concept of Nourish was born out of the changing requirements of our client base, who now look for more wholesome choices to help them maintain a healthy lifestyle. This trend is responsible for the ever burgeoning "healthy' fast food industry which has given us Boost Juice, Sumo Salads, Well Being and the 'Healthy Choices' at McDonalds as well as Subway's '7 under 6' range.
Feedback that we have collected from past and current corporate clients certainly points to a growing need for alternatives to traditional indulgences, and we have taken note that numerous multinational firms now enforce a policy which governs the type of catering that can be ordered in to align with their duty of care. Despite this obvious trend, few caterers in Sydney have jumped on this bandwagon, so to speak. Thus we have developed our Nourish range to fill this niche and will promote it as being "catering with a conscience". Our Nourish range will include items for breakfast, morning and afternoon tea, lunch, canapés and buffets.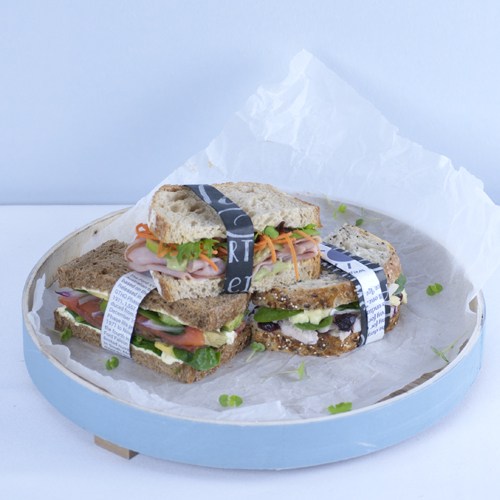 VIP client program
Flavours launched a VIP program early in 2011, which differs from many other reward or loyalty programs. It not only offers catering rebates for return clients, which are claimable after a certain spend is reached, but offers free and discounted delivery rates. After surveying many of our corporate clients and receiving similar feedback in relation to the cost of delivery, Flavours management introduced a VIP program in order to make our loyal customers comfortable and happy staying with their preferred caterer.
There are three tiers in the VIP rewards program; gold, silver and bronze, which have different bonuses and rewards (see attached documentation for marketing material).
Inbound/outbound enquiries and sales team
As the administrative team is continually and rapidly expanding, Flavours management have grown their inbound sales team and developed a new outbound sales team. The inbound team are head of the quotations department, whereby they respond to all quotations made via phone, email, fax or online enquiries. They pride themselves on their fast turnaround time, and will ensure the client has their tailored quote within 24 hours of lodging a request.
Our outbound sales team are a part of the cold calling department who focus on sourcing new clients via Lunch + Learn meetings and samplers both of which have proven to be a great ROI.
---